Print this Page
Franklin Orthopedics and Sports Medicine
About Us: About Dr. Saluja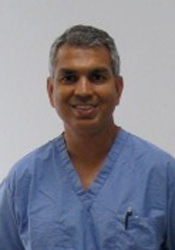 Rajit Saluja, MD
Board-Certified Orthopedic Surgeon
Dr. Saluja is fellowship-trained in hip and knee reconstruction with emphasis on custom-matched joint replacements and complex reconstructions of the hip and knee. He completed his fellowship training with Dr. William L. Bargar who is a pioneer in the field of robotic hip surgery and the use of custom hip prostheses.
An avid athlete, Dr. Saluja enjoys tennis, biking and running and has completed over twenty marathons.
Specializing In:

Total Knee and Hip Replacement

Knee and Hip Reconstruction

Computer Navigated Joint Replacement

Hip Resurfacing

Fracture Care

Arthroscopic Surgery of the Knee and Shoulder

Arthritis

Surgery of the Hand and Elbow

Carpal Tunnel
Medical Degree
University of Wisconsin - Madison, Wisconsin
Orthopedic Surgery Residency
University of Colorado - Denver, Colorado
Orthopedic Fellowship
University of California - Davis, California
Professional Affiliations

Fellow of the American Academy of Orthopedic Surgeons

Fellow of the American Association of Hip and Knee Surgeons

Mid-America Orthopedic Association

Milwaukee Orthopedic Society

Wisconsin State Medical Society

Milwaukee County Medical Society
Hospital Affiliations

Midwest Orthopedic Specialty Hospital

Columbia - St. Mary's Hospital

Wheaton - Franciscan Health Care - St. Francis

Wheaton - Elmbrook Memorial Hospital

Wheaton - Franciscan Health Care - Franklin

Aurora St. Luke's Medical Center

West Allis Memorial Hospital

Orthopedic Hospital of Wisconsin
Publications and Presentations
Click here for a list of Dr. Saluja's Publications and Presentations.